Only Blog is a way that helps you to daily updates your website with new information about the product and services which your website offer and share news that is a very good way to be in touch with the audience. Now I am going to describe how to add a blog to Drupal website. If you want to develop your website in Drupal, raxix is one of the best development services providing company across the world.
Enable the blog module – Blog module is installed by default like the other modules, let's find in the module page and enable it in place the check in the check box and enable it first, then save it by clicking the save configuration button at the bottom of the drupal page.

Create your first blog post – Now the blog module is enabled and you can create your post. Go to content – add content for creating your first blog post. You can see blog entry that is available for your content by click on that you will proceed for further operation.

Now you can add a content to your blog page same as you are creating a about page. You will definitely find the screen very familiar with you. When your blog post is completed or ready just go and hit the save button that is placed at the bottom of the Drupal website page.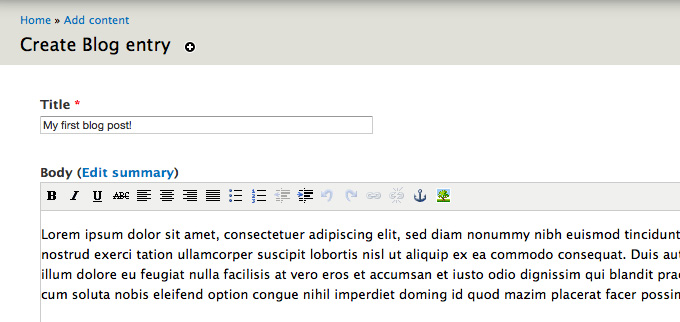 Add a menu link to your blog – The final step is that to add a link to your blog it is just because of visitor can easily find the information that they needed and then posted by you. To do this go to structure – menus now click the add link button that is next to the main menu.

Next, there are two fields you have to fill.
Menu link title – In this you write the name that you actually want to give to the label that will exactly show.
Path – In which give the path to the blog. It should be blog.
About the menus and add a page on the Drupal site I was discuss in my last blog post, but now it is important to add a blog item because its URL is not simply configurable like a regular page. Once you add a blog option or label in the menu and create a post then you refresh a front page and click on the new blog section you will see your post already public.