In this article we will discuss how to install Magento on Wamp server local host easily. Installing Magento for beginners is not always an easy task, as Magento require server configuration which are not set by default. Before installation you need following
WAMP server installed in your computer
Magento Community Edition files.
Installing WAMP:
Firstly download WAMP from
http://www.wampserver.com/en/.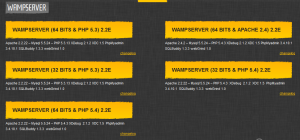 Download and start the WAMP server.

Check whether Wamp is active or not, if Wamp icon is green means it is active else it's not.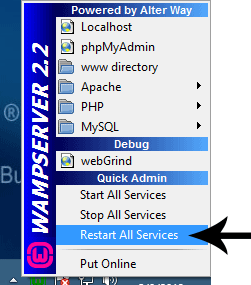 To make it active click on it and 'Restart All Services'.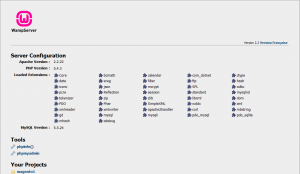 Now open a browser and type localhost on the address bar and you will see your dashboard page of WAMP server.
Download Magento CE:
You can download Magento community editions from https://www.magentocommerce.com/download.

Installing Magento
Now you can start the process of installing Magento. Extract the download Magento file. In the extracted files you will see a folder named "Magento". copy that folder in the root directory of Wamp server. To get a root directory, click on WAMP icon and select 'www directory', your server root directory will open up.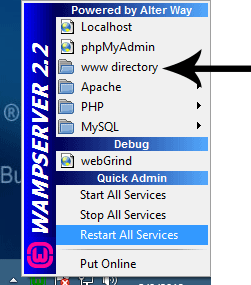 Copy the'magento' folder in this directory. Now your Magento file is ready for installation. Before installation, you have to create the database.
To create a database of your site, go to warm-up server Dashboard, click on the phpmyadmin link in the tool section.
PhpMyAdmin page will open
Click on the database tab and type in the database name and create new database.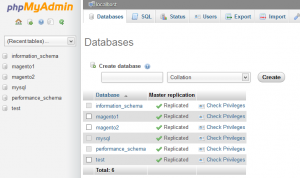 Server configuration:
For error free installation you have to make some changes in your WAMP server.
Firstly Enable curl extension
Click on WAMP icon->PHP->PHP extension->PHP_curl and click on it to make it active. Click on Wamp icon and restart all services.
Enable Apache rewrite module
Click on WAMP icon ->Apache->Apache Module->rewrite module. Click on WAMP icon and restart all services.
Now you are all set to install magento.
Click on Wamp server and restart all services.
Open Wamp dashboard and click on a Magento folder in your project section.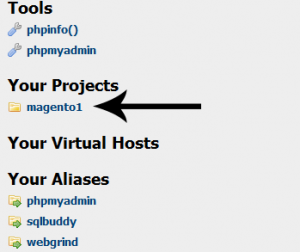 Localization setting page appears. no need to change anything, click on continue.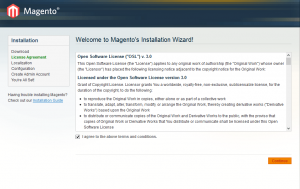 Next the configuration setting page appears. Set hostname as 'localhost'.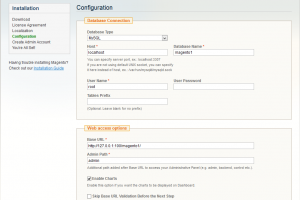 Keep another thing as it is, click on continue, this time will take time as Magento will be creating database tables.
You are done and have set up your Magento webstore