Initially you need to install some modules because that provides you very basic functionality to access drupal. That's why we need to install it before creating content for our website. Now we are trying to completely let you know that how to easily install modules in drupal. 
Add a Wysiwyg Editor To Drupal
The WYSIWYG is the best editor allows you to use the client side editors to edit content. It simplifies the installation and integration of any kind of editor that is chosen by you. It supports different kind of client side editors like HTML editor, pseudo editors or flash based applications. Instead of adding an editor first there is a need to install module that allow you to use any editor. Firstly you go and download that module.
          When you install and enable to WYSIWYG module, go to the module and click the configure button next to it.

TinyMCE is platform work according to the WYSIWYG, below you can see there are TinyMCE download link and you must follow that link to download TinyMCE version 3 because WYSIWYG not support the TinyMCE version 4.

Then upload it to your account under the sites/all/libraries folder. After does it refresh the module page you can see now in the snapshot TinyMCE is present in the list, choose it for all types of content then click save button appear at the bottom of the page.

Configure The Wysiwyg Editor Elements
Now you have to click the edit button to configure the next showing different input which you want.

On that page, choose all functionality you need, By clicking buttons and plugins tabs for your editor.

Finally, click the save button that appears at the end of the page. Now when you start creating your content your page should be look like below snapshot page.

Enable the Image upload module in drupal
In order to add images to your content, you need to install another module for images. Due to the extraordinary drupal features this module is pre installed, you just need to make sure from the module page that is enabled.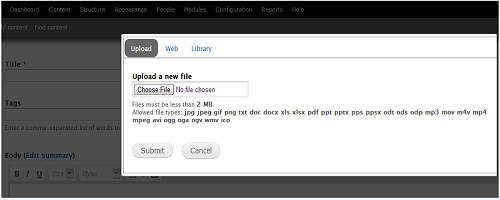 Now you are able to upload images from your computer to in your content.