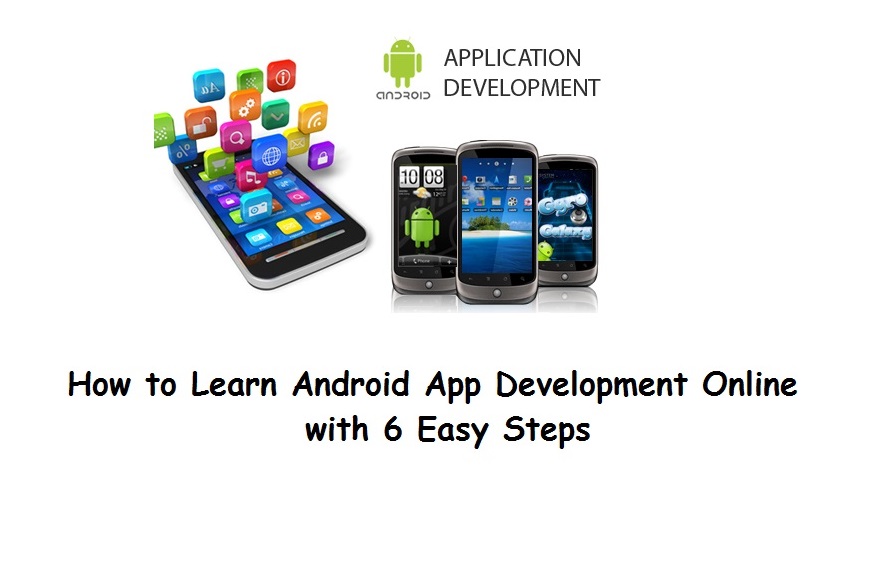 Android App Development trend is booming nowadays. Here in this article we are going to share with a topic which is about "How to Learn Android App Development Online With 6 Easy Steps".
Android is a mobile operating system which is developed by the Google in 2008. This operating system is based on the Linux kernel and written in C (core), C, Java (UI). This operating system is designed for the touchscreen mobile phones, but after sometime with the help of specialized user interface, many companies also introduce this operating system in other devices also like television (Android TV), Android wear watches, android auto cars.
In the Mobile App Development, there is a very good career in Android Application Development. So here we share with the beginner's guide for How to Learn Android App Development Online.
Beginner Guide for How to Learn Android App Development Online
Benefits of Working With Android OS: Android is widely used for the business, career, communication and for the health care purpose. This is one of the best OS for smartphones as compare to others like windows and iOS. Because it is very flexible and easy to use. Navigation features are very good in this OS. You can create unlimited apps for this OS.

Download and install Free Android Software Developer Kit, Eclipse, Android's Open Source IDE and Google Supported ADT plugin. These three tools helps you to develop an android app.

You can create "Hello World" up with the help of any online tutorial.

You can take any online Android Application Development course. The best thing of learning anything is to get involved with it. If you want to learn android app development, then try to make apps with yourself. Try to add features of the other apps in your apps. When you are doing these things, a new idea comes in your mind and you become an expert in your work.

You can sign up as an Android developer on Google Play and you can get the benefit of more android development tool from here.

You can also follow the Google Android Developers blog for getting more news, updates or ideas to learn many new things from here.
Here we are providing some link regarding Android Application Development.
Free Android Development Courses
https://www.coursera.org/course/androidpart1

http://cs76.tv/2012/spring/

https://www.coursera.org/course/androidapps101

https://newcircle.com/s/post/1017/android_bootcamp_series_2012_video_tutorial

https://www.coursera.org/course/digitalmedia
Android Video Tutorials
https://www.youtube.com/playlist?list=PL9E21BFF408167ED6&feature=plcp

http://beta.appinventor.mit.edu/about/

https://www.youtube.com/watch?v=SUOWNXGRc6g&list=PL2F07DBCDCC01493A

https://www.youtube.com/playlist?list=PLF3EEB647F6B52F03

http://web.stanford.edu/class/cs193a/

http://code.tutsplus.com/tutorials/java-tutorial–mobile-2604

http://www.vogella.com/tutorials/android.html
Essential Android Development Resources
https://plus.google.com/communities/105153134372062985968/

https://docs.google.com/spreadsheet/pub?key=0Aiakq5EFgZZTdGlmblFNMFZLN3huRnNUNzdkWDRoekE&output=html

http://commonsware.com/Android/

http://www.andevcon.com/news/getting-started-with-android-5.0-lollipop