iPhone is series of smartphones, which is designed by the Apple. These smartphone runs on the Apple's Mobile Operating System named iOS. Company also use this operating system in their other devices like iPad and iPod Touch.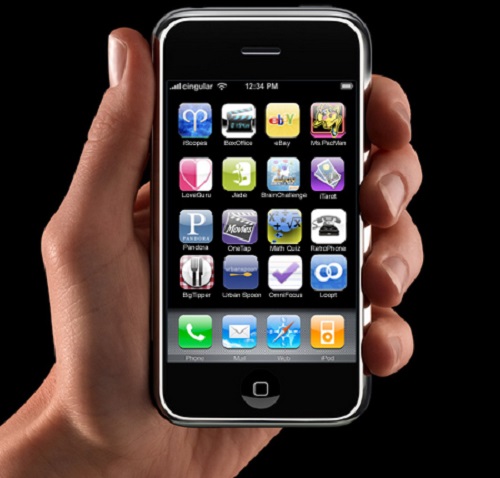 The Mobile Application Market is changing constantly and most of the companies launch every time new types of games and entertainment apps for iPhone and iOS. Mobile Application Development has also taken huge growth nowadays.
Here we are going to How to make an iPhone Application with easy steps.
Step by Step Guide for How to Make an iPhone Application:
Setting Up Development Environment
Xcode: Xcode is the iPhone Application environment (Software) in which all iPhone applications are created. You can download this software from the official website of Apple and its totally free. You cannot install this software on windows or other operating system. This means if you want to make an iPhone Application, then need all things of Apple, like MAC, or MAC Mini. At the present time you can make Apps for iOS 8 and for this you need the latest version of Xcode. These things available on the Apple Website. You can Download and Install these things in your device.
Good Text Editor: You need a good text editor that helps you edit large codes with programming syntax features. I think TextMate and JEdit are two very popular editors. You can use them.
Vector Graphics Program: If you want to create custom Art for your app, then you have to install Vector Graphics program. This software helps you images, design without losing clarity of programs. One of the best and famous software are CorelDrow, Adobe Illustrator and Inkscape. You can also use DrawBerry, this free and having good features.
Learn Objective-C Programming: Objective-C programming is basic of iPhone App Development, this programming helps you to create functionality. You also have to learn Java and when you understand all the basic of Objective-C and Java then you can easily make iPhone Apps Development.
Take Help of Outsourcing Development: If you don't have any interest in objective-C, then you can take the help of others. For this you can use UpWork freelancers for the coding.
Make a Development Account: If you want to distribute your apps on the App Store, then you have to make an Account on Apple Developer Section and you have to charge $99 per year.
Download some Test Apps: When you login in Developer Account then you can access Apple's Development resources. You can check different samples of projects from here and these samples also helps you to learn How to make a good iPhone App.
Planning The Application
Define Your Concept: Before starting work on the Xcode, you can make a rough plan of design and features of apps. You can make a document in which you can write all plans of make apps. You can write needs, ideas, how to make a design, features of the app.
Determine your audience: Audience is also very helping to create new functionality of apps. If you want to make a game, then you have to add features according to the targeted audience.
Good UI Design: Good UI design is very help to make your app navigation properly. If your Design is clearly visible, then user not found any difficulty to run this app.
Creating The App
Now Open Xcode and start New Project. You have to open File Menu, then select Application and choose Empty Application in the template section. Basically, it is coding part and now you have to put all your skills into coding. First, you have to make the design, then you have to do the development part. When your Application ready, then we have to do Testing of Application. This is last but very important part of developing any application.
Testing of the Application
Testing is very necessary for every application with the help of this process check whether your application is working fine or not. If it's giving any error then you can fix it. So for the testing of applications, we have some step by step guide:
Start iOS Simulator: In Xcode, you get this feature inbuilt. Now you can test your app on different devices. You can start simulator by choosing "Simulator and Debug" Option.
Build App: Click on the build button, which is a play button to compile the app and it take a few minutes and your app start running.
Test on Your iPhone: Now you can test your application on your iPhone. You can connect your device to your System. Then select "Device and Debug" menu and then click build button. After sometime application starts running on your iPhone. Test all functionality before closing the app.
Check Memory Usage: You can also check memory uses of installing an app on your iPhone. If your application consumes less memory than its ok, if not, then you have to modify your code. Otherwise speed of app goes down.
Take help of others: You can also give your app to your friends for checking. They also help you in testing of application in a better way.
Release Your Project
Create Distribution Build: Now you have to create distribution build. Select device and release from the drop down menu, then press "Build" icon. Now navigate your project to build folder and go to "Release-iphoneos" folder. Then there is app.zip option and then makes zip file.
Add Information: Now you have to add application information in the application. For this go to "Manage your Applications" then click "Add new Application" and fill the information like App Name, SKU Number, select bundle ID.
Upload Your Application: For this click on "Ready to Upload Binary" and then go to Application Up-loader tool and download the app and press Done. First when you launch the application, it needs your iTunes information.
Reviews: Now you have to wait for the reviews, For some time apple watch your application and send you mail regarding they approved your application or not.

Promote Your Application: You can also promote your application and best thing for the promotion is social media. You can upload YouTube videos.