Raxix Technologies is one the best Mobile App Development Company, which provides their services at affordable prices. As you know that Mobile Apps use in Handheld Devices (Mobile & Tablets) to make a better user experience as well as user interface. Now, Raxix is focusing only two technologies of Mobile Application as Android Development and iPhone Development. Our team of professional App developers provides mobile apps within your budget. Our Company has developed Mobile Apps of different fields as – Healthcare, Entertainment, Retail and Education etc. Raxix Technologies deliver Highly Reliable, Secure and Flexible Mobile App  projects within a minimum time frame.
Please check our portfolio below for Mobile App Development –
Controls used -: We have created this sign up View because you must have your personal credentials to login in this application. So here, in this view user will create its account for loging in it.Login In View -: This is a Login View from where user will login in this application. User can login in this application by three ways.:- 1.Using Facebook account (Facebook integration) 2.Using Twitter account (twitter integration)Feed View -: Here, this is a View , where You can watch all videos uploaded by user's who are using this application.When you click on Video then video will play and when you swipe this video down then it will show you small video like as youtube , at this time you can do multi-tasking one is to watch play video and other is to see all videos to play it. if you like any video here then you can share that video by Facebook or twitter account.I am sure you will find lot of them. You can also share your adventure, natural beauty, great places where you visited, our app also provides you capture video with title and upload it to the serve and you video will available to watch for all users of this app.Hash tag also supported.Explore View -: Our map aacess your location and shows video nearby you, it will give you a little idea about the places nearby you so you can click on they watch video and visit that place if you like….or you can search country you planning to visit and look at the video uploaded by users at different locations. Our aim is to connect you to the rest of the world you can explore countries and see attraction on your screen.Profile View -:ProfileView shows user's profile like his profile pic, country, number of videos uploaded, no. of followers. User can see the list of videos uploaded by him/her. if user want to share his/her video then its very easy , using Facebook account and twitter account.
2
Motorbike Driving Simulator 3D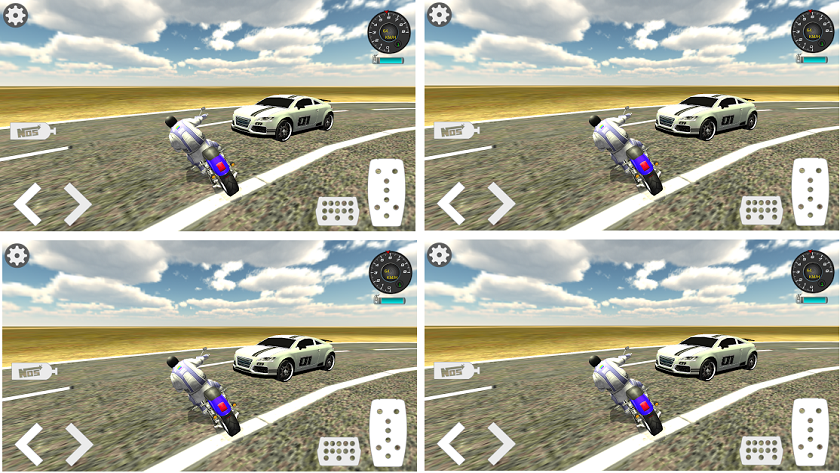 Motorbike Driving Simulator 3D is a Gaming Application. This game is a simulator and helps you to learn how to drive a motorcycle on the road. You can learn all things from here, like how to take the cuts, how to overtake a vehicle and many more things.